I made a visit to Boston for a conference that I attend each year. The conference, Inbound, is one of my favorite marketing conferences. This year, the event started on election day, which made for a very different experience than past years.
I was there with a client of mine for part of the event. We held a live chat event at Harpoon Brewery on election day. It went really well. That evening, I attended the kick-off event with Gary Vaynerchuk. I remember two parts of his speech. The point where he stated, "It makes no difference who the president is. Stop worrying about it." He has since shared a different sentiment. And, when he encouraged slash shamed the audience to do what they love and stop making excuses..
I watched some of the election results coming in. It was too stressful. I went back to my AirBnB, talked to my lovely hosts, Jess and Jakob and I went to sleep.
The next morning, I woke up to a text message from a friend, "I'm so scared." My heartbeat quickened. Could it be? I googled the election results. Google displayed the terrible news. I cried.
As I walked outside, it was like I was in a different world. It was disorienting to realize that my perception of my country wasn't reality. I felt like a stranger.
I was shocked by the nation's ability to endorse someone who so clearly had no respect, shall I say a blatant disdain for women, not to mention lots of other horrible character flaws. I was on guard. As one woman described it, "I feel like you do when you walk into a room and realize that everyone has been talking about you."
I made my way to a charming coffee shop. Coffee shops always make me feel better. Everyone was silent. I read the news and tried to make sense of things. Eventually, I decided it was time to go to the conference.
Ta-Nehisi Coates was the keynote speaker. I had been looking forward to hearing him speak. He's an incredible thinker and I had just finished his beautiful book, Between the World and Me.
Given the recent events, I had a feeling his talk wasn't going to be about marketing.
"I prepared an optimistic talk," he said. "One about education and the future of our country," he said.
"Instead, I'm going to talk to you about what it means that we've elected a president like Donald Trump."
I don't remember much of the speech. I remember feeling horrible about the realities that he shared, especially for the black community. I cried.
The day was a blur. I couldn't focus. I attended sessions. I worked. I watched Hillary's concession speech. I cried some more. After half a day of this, I became fed up with myself and sat down to sort out my feelings. I wrote. It made me feel better.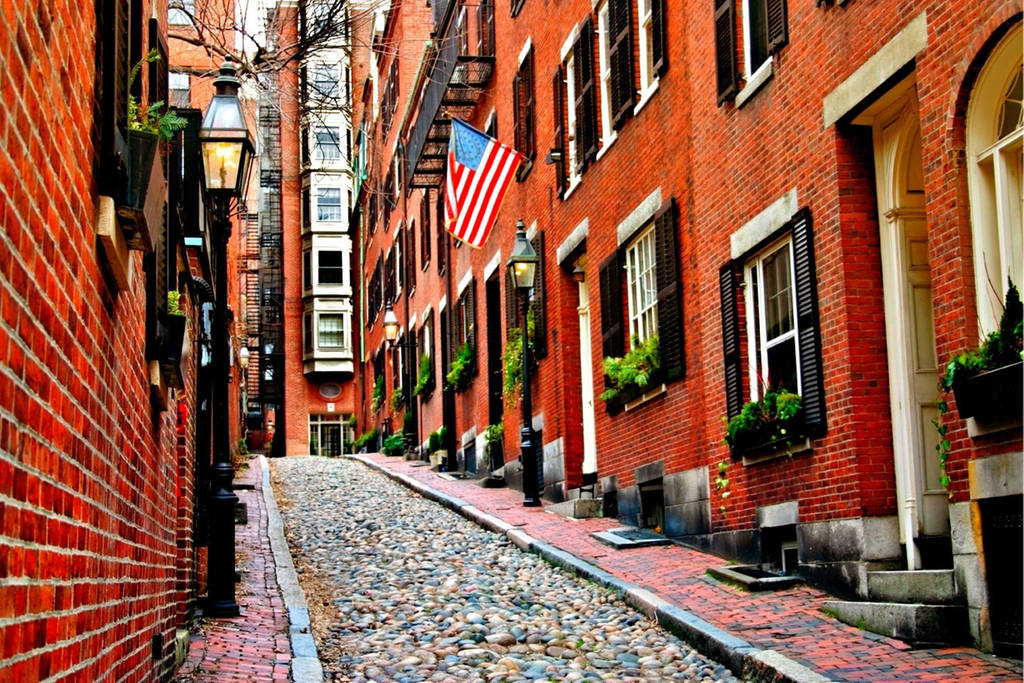 I made my way back to Beacon Hill. It's a beautiful place with its narrow cobblestone streets. They make me feel connected to America's history. I decided to try a nearby Persian restaurant.
I walked into Lala Rokh, looking forward to a glass of wine and a comforting Persian meal. As I walked in, an Iranian woman greeted me with a big beautiful smile. I asked if I could take a seat at the bar and she said "but, of course! I will follow you!" and together we walked around a three-sided bar, to the very far end, to a seat I had chosen, where no one was sitting, so that I could be quiet and linger over my malaise.
As I settled in, my ears perked up at a conversation about the election. A pair of friends were discussing our new reality with the bartender. I stared at them, listening.
All of a sudden I desperately wanted to connect.
I sat and nodded in agreement at the expressed fear and confusion they expressed to one another. The woman of the pair caught my eye, catching me as a silent participant in their discussion. "I'm just over here agreeing with everything you guys are saying," I said. The bartender, now aware that I was there, pulled me into the fold and we began to discuss, what next?
I expressed that in a sense, at least the fear and hatred that drove the decision had now been surfaced and we could address it and try to understand what had happened. As I said that, a woman, sitting silently at the end of the bar perked up, "What you're saying is really resonating with me, I'm just emotionally exhausted so I've been quiet." With another participant, the conversation became more lively. As we all shared our initial reactions to Trump's win, it was clear, there was a lot to work through.
"Do you want to go sit with them," asked the bartender. He looked like a young Malcolm Gladwell.
"Oh, I don't want to intrude," I said.
"Not at all!" said the male half of the pair. "We just ran into each other on the street and decided to grab a drink," he said while pointing to the woman next to him.
"Can I?!" I said, enthusiastically, blatantly desperate for connection.
I packed up all of my things and moved around the bar, settling down next to the man. His name was Justin. He's a gay man and concerned not for himself but for the rights of other gay people in this country who don't live in a progressive state like Massachusetts. As he talked about his concern, he teared up as he acknowledged the possibility that other LGBTQ people in the country who live in the south or other areas might have their newly established rights withdrawn and be forced to live a fake life or move away from their homes and their families in order to live out their truth.
We all shared the experiences we had when we found out. How sobering the news was and how all of our days had been impacted.
"Tomorrow should be Friday," said Maran.
Maran shared how she had just come from a blind date where she sat down and exclaimed, "Can you believe Trump won?!" Her date, not a common Bostonian, said "Yeah, I voted for him." Maran had one drink and ended the date.
The bartender poured each of us a drink and then we raised our glass to solidarity and action.
We considered our ignorance and how silly we feel for being surprised. How lazy we had been—we were so content with Obama. All of us agreed that we just thought this was how the future would be.
The group agreed that we need to listen and share and work to relate to the group of the country that made this choice. But, how? Shayda shared her challenge in understanding the other side's motivations but also her belief that if we can reveal the fundamental motivations, there will be something very human and relatable there.
The question is, how do we start that conversation?
"You know, if Trump wouldn't have won, we wouldn't be having this conversation. This event has open the floodgates."
We all exchanged phone numbers. As Shayda left, the bartender handed her a cardboard sign from behind the bar, "Make water, not oil."
She was on her way to a protest. I think she's the first person I have known in my life to have seen, on their way to a protest. What a world!
I left dinner energized, having connected with intelligent caring people. We spent the next few days texting each other, sharing events, and upcoming actions we could take.
I am an optimist. I hold the belief that the majority of people are kind, caring, interesting humans. Over the course of 14 hours, that belief was threatened and then restored.
I find some comfort that Trump's presidency will at least yield new friends.