In preparation for our trip to Cuba we booked flights and an AirBnB, ordered our Visa's and our traveler's insurance and then I set aside two hours the week before to plan the details of our trip.
I sat down, the Sunday before the week we were leaving at a coffee shop to get our itinerary in order. Six hours later I had 80 percent of our itinerary planned.
It's possible that I'm an over-planner, but I'd argue that my level of planning was required. As I began to research for our trip, I found that there were going to be traveling challenges that we've never dealt with before, such as:
Limited internet access: You can access the internet by purchasing an access card from the government, at hotels, or by people on the street who are reselling them. The card provides credentials for logging onto defined Wifi networks. It can get expensive ($3-$7/hour) and is somewhat unreliable. The gist is that we weren't going to be able to use our go-tos like Google and Yelp to find places to eat and see.
Limited cell service: Temporary phones can be purchased, but we didn't end up buying one. Our phones were used just for pictures and Google Translate and means that all of our awesome photos were posted to Instagram on a week delay.
US currency or credit cards are not supported: US dollars are not available for currency exchange in Cuba. Because, embargo. So, prior to leaving the US, we exchanged our US dollars for Canadian to take and exchange for CUC (Note: there are two currencies in Cuba, pesos and convertible pesos—CUC. More on this in another post.) You can also take Euros to exchange. I recommend looking at the exchange rates before you leave and exchanging for the currency that is strongest against the CUC. I recommend exchanging at the airport so you can pay for your taxi.
A complete disregard for maps: Usually, when we're traveling, we will download the Google Map for the area we're visiting before we leave the US. When I attempted to do this, downloading the map of Havana from Google wasn't possible. So, I ended up creating maps that I printed before we left for a bunch of the places we planned to visit like it was 1990.

Once we arrived, we realized that the people in Cuba don't use maps. For instance, when we arrived we flagged down a taxi driver. I gave him the address, which was less of an address and more of an intersection. The driver was clearly confused. When I handed him a map he vehemently rejected it and started driving. About three minutes into the drive, he made a phone call and spoke aggressively with someone on the other end about the location. He paused and said, "Lady, do you speak Spanish?!" I answered his question with a blank stare and "Un poco." He described to us in broken English that where we were going wasn't in the town we thought it was and was much farther. I tried handing him the map again, to which he shook his head and waved it off. Then he pulled over and tried to talk through the location with us once more, with no success. I tried once more with the map, and he finally accepted it. It must have said something he understood because he indicated that he now knew where we were going. Phew. As we entered the neighborhood on the edge of town, he became confused about where to go. Again, I tried to hand the map back to him, "No!" He stopped the car, rolled down the window and shouted to a passerby, "Hermano! Donde esta..." It was then that we learned that Cubans would much rather ask directions than try to read a map. This reality was further validated when we found that there were no maps to be found. Not even in tourist shops. Crazy!
Very few people speak English: I could tell from my exchanges with our AirBnB hosts that English was going to be limited, but I didn't know how limited. There were only a handful of people that we encountered during our week-long trip who spoke English. One of our host families spoke absolutely zero English. So, downloading Google Translate, doing a bit of Duolingo, and listening to audio lessons came in really handy.
None of these issues made our trip any less enjoyable. In fact, the lack of access to the internet was a welcome break and the disregard for maps meant that we had to talk to more people and ask for directions, which was a great way to practice our Spanish and meet more people!
While we received several recommendations for places to visit and eat once we arrived it was really useful to have a detailed itinerary that included lots of options and directions to destinations.
Most of the good restaurants are hidden. Private businesses only became legal, in the last five or so years, and many of them are in what used to be private residences, not obvious to tourists who speak minimal Spanish. Paladars are the private restaurants in Cuba. All other restaurants are owned by the government. One of our guides told us, "You know that you're in a government restaurant if the beer is warm." We learned that government restaurants are easy to find and serve the worst food. So, my research and the recommendations we received from the people we met meant that we ate great food at really interesting places.
Here is the itinerary for our week in Cuba###
Friday
Arrive at our AirBnB in New Vedado and have lunch with our hosts. Our experience with the hosts at this AirBnB was magical. I highly recommend Maria Virginia and Nicolas' house if you're visiting Havana.

Visit to John Lennon Park

Meet at Habana Nights to begin our wonderful 3-night AirBnB Experience with Marcel
Saturday
Coffee and Tunnel Tour of the Cuban Missile Crisis at the Hotel Nacional

Visit the Plazas in Old Havana & eat lunch at the restaurant next to Dona Eutimia More information on why we ate next to the restaurant in a future post :)

Rum Museum tour at the Havana Club and Pina Coladas next door.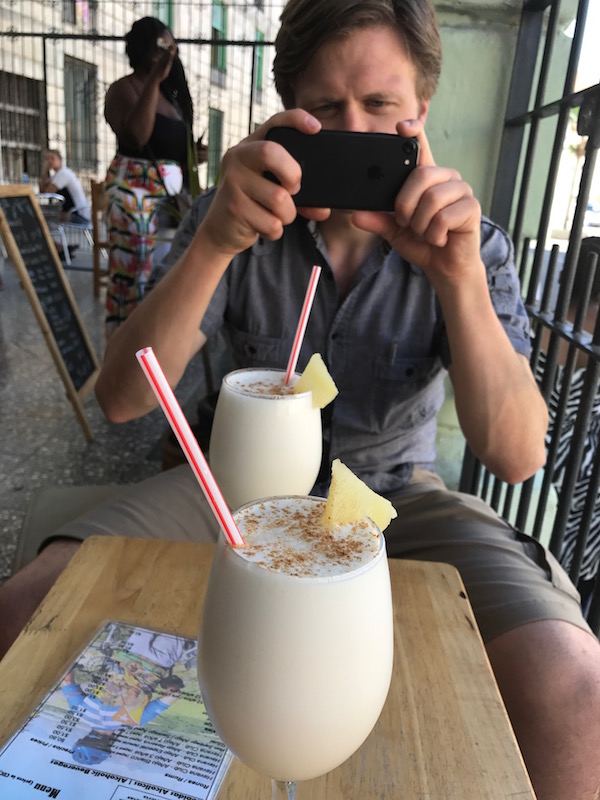 Drinks and dinner at a Rooftop bar called Encuentro.
Thanks to Marcel, we were able to enjoy this great,
hidden bar. We never would have found this place ourselves.
Sunday
Walk down Paseo to the Malecon. We saw the North Korean Embassy. Nuts.

Lunch at Vampiro, a cheap and delicious restaurant, clearly known by locals and not often visited by tourists. The waiter was disgusted by my attempt to order in Spanish. It was hilarious. We had burgers, papas fritas, and beers for around $12 (WHAT?!) I found this place on a list of casual bites.

On our final night with Marcel we saw a play at the Cine Yara and then went to dinner at an incredible restaurant, VistaMar (Go to this restaurant. You must.)
To end our night with our new friends, we had a couple of drinks at KingBar, a restaurant, bar, and dance club (check out the not-so-subtle suggestive logo...)
Monday
Breakfast at Cafe Montero This became a regular stop for us. It was a charming little outdoor restaurant and coffee shop that was super cheap and had delightful service.

To the beach! We took a bus from Parque Central to the Playas del Este. The bus costs 5 CUC per person, round trip and takes you 20 miles to the beach. There are several stops along the beach. We got off at the last stop, where it was less crowded.


Beers at the only micro-brewery in town, La Muralla Tavern. This place was pretty touristy, but the beer was tasty.

Handheld Pizzas from a little shop in Old Havana. Pizzas for like $2/person. Super tasty and good for travel!
Tuesday
Took a Cubanacan bus to Viñales. There are two buses to Viñales, one with Cubanacan and one with Viazul. Cubanacan is slightly more expensive ($14/person vs. $12/person) but it is well worth it. The bus ride was enjoyable (it's about a 3-hour drive), the driver was delightful, and there were fewer stops than the return trip we took with Viazul.

Arrive and check in at our AirBnB. This was a lovely AirBnB, about a 15-minute walk outside of downtown Viñales. The hosts are great and upon arrival took us down the road to a Cigar farm, then arranged for a horse back ride for us the next day.

Walking tour of the National Park through Cubanacan. We arranged this tour after arriving in the town. It was a three-hour walk in the park where we saw a coffee farm, another tobacco farm, and much more.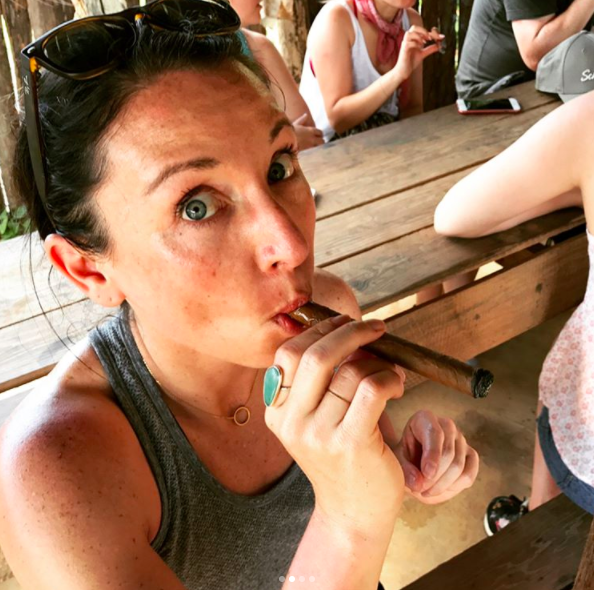 Homemade dinner at our AirBnB
Wednesday
We enjoyed a huge breakfast made by our AirBnB hosts.

Horseback ride in the National Park. This tour was somewhat similar to our walking tour, except on horses! We visited a different coffee farm and went to a bar on the top of one of the hills to admire the view and enjoy a Piña Colada. We also visited a cave, which had bats, stalagmites,stalagtites, and bee hives.


We had lunch in town, at a restaurant that was off of the main drag, offering Ropa Vieja for $3.50. Winner!

Bus back to Havana with Viazul. Again, we preferred the experience with Cubanacan.

Excellent dinner at Cafe Laurent, a restaurant in a Penthouse with a view out at the Malecon. I highly recommend sitting out on the balcony, instead of in the dining room.
Thursday
Breakfast at Topoly an Iranian Restaurant

Trip to Hotel Nacional for coffee, the view, and internet access

Lunch at Mundo Pizza This is a charming pizza restaurant. The owner was really friendly and helpful and the bartender took a lot of care in the preparation of our cocktails. The pizza was tasty and we enjoyed awesome 90s music while eating.

Trip to the Museo de la Revolucion. This was fascinating. I recommend reading about the revolution prior to your visit so that you can compare stories. More on this museum in a later post.

Drinks at La Torre for incredible views of the Malecon and the city


Last Cuban dinner at Starbien, a nice Paladar in a beautiful two-story colonial house in New Vedado. Our AirBnB hosts recommended this place as one of their favorites. We enjoyed more Ropa Vieja on a second-floor terrace and had a leisurely dinner.